Cosmicismo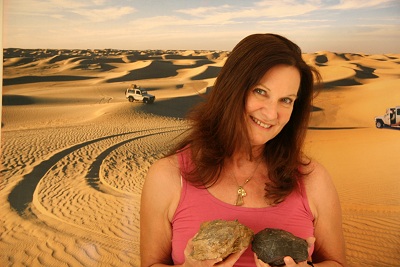 By "Cosmicism" we mean a pictorial line and / or tendency of thought where the astronomical and in any case cosmological element intended as a representation of the curvature of large dimensions, of space time, of galaxies, of the cosmic orbits, of the presence of meteorites, etc. ., is predominant.
In this expression and description of physical reality through colors and lines, man is depicted, he is present, but of him there is only the spirit, the emotion that he tries to look at the starry sky or collect a meteorite, that is a messenger stone of a deep and fossil space, understood not only as a universal dimension but also as an intimate base of ourselves, men of the Earth.
Life on Earth was born perhaps thanks to a meteorite and in any case what we are made of and of which the meteorites are composed, is what the universe, through the stars, has always produced.
From infinire to the earth
Clara Brunelli, The artist of meteorites from desert
"When i was a child i really loved drawing, but my great passion were colored pencils"
Clara Brunelli was born in Visano (Brescia/Italy) and resides in Garda (Verona/Italy)
Former professional photographer and currently painter, travels a lot and loves in particular, the SAHARA desert,, where with the husband Fabrizio, her enthusiastic travel companion, they often went in adventurous Meteorite hunts, precious space fragments used in her paintings.
Self-taught, always acts spontaneously, instinctively and with strong imagination.
All the meteorite fragments in her paintings are authentically certified as HAH 296 by The Meteoritical Society, (International Society for Meteoritics and Planetary Science). Through her paintings, made with oil-based paint and enhanced with fragments of meteorite, she tells us about the journey of these cosmic stones through nebulae, galaxies, planets, constellations and finally the desert, the place where she finds them.
In every scene, nothing is random, landscapes, colors and the charm represented on her paintings are based on personal emotions and memories. She loves meteorites and consequently fell in love with their place of origin. Deepens her knowledge about the cosmos and represents it in her paintings based on her personal roadmap differing it from the scientific.